When I wake up in the morning and the alarm gives out a warning and I think I'll never make it on time…
Apologies for the "Saved by the Bell" reference right out of the gates. My thinking was that it was bound to happen sooner or later, so might as well get it over with early. Of course, I'm not making any promises that I won't toss a few more in as this review progresses.
Of course, the references are unavoidable because this is Killer Kapowski. You know, as in Kelly Kapowski? Tiffani Thiessen's (Long Beach!) character in "Saved by the Bell"? Yeah, now we're on the same page. Even if you didn't watch the show, the side of the bottle's label gives a hint, kicking off the beer's description with "It's all right…cuz we were saved by the bell". Now known as Killer Kowalski (which was supposed to be the name originally, a nod to the wrestling legend), Flossmoor Station's Killer Kapowski was first released in bottles in February of 2009. Lucky me, this bottle is from 2009, I believe from the summer. Time to see how this Baltic Porter has held up over the years. Make your own Tiffani Thiessen jokes here. I'm so excited. (I know it was Jessie and not Kelly, but still. Shut up.)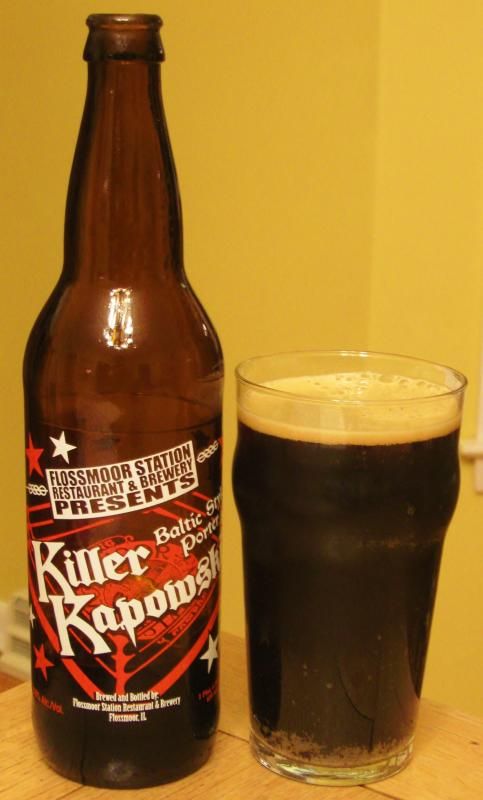 Killer Kapowski
Brewed by: Flossmoor Station Restaurant & Brewery
Style: Baltic Porter
ABV: 8.3%
Serving type: 22 oz. bottle
This should be fun. I haven't had a Baltic Porter in years. Honestly, the only one I can even remember trying at the moment is Flying Dog's Gonzo Imperial Porter. As the story goes, porters were a lot stronger back in the day (read: hundreds of years ago) than they are now; you know, just another tale of how the younger generations keep screwing up. Anyway, stronger versions were brewed to make the voyage across the North Sea, hence the moniker. The story sounds eerily similar to the one told about the origins of the India Pale Ale, one that I still don't think is agreed upon. As with most of life's great debates, might as well sit down with a beer and ponder.
How does it look?
Go ahead and make your Tiffani Thiessen jokes here. We're looking at a deep reddish-brown color that really comes alive with some light in the background. Mocha-colored foam reaches about a finger and retains really well. With each sip, specks of lacing remain stuck to the glass. Honestly, I wasn't expecting much given the beer's age, so it's a pleasant surprise.
How does it smell?
Go ahead and make your Tiffani Thiessen jokes here. If I didn't know the style in advance, I'd guess that this beer was an amped-up sweet stout from the smell alone. The roasty characteristics are definitely there, and there's also plenty of sweet malt. Very coffee-esque in that aspect. There's bittersweet chocolate and faint traces of dark fruits, plus something that reminds me of black licorice. There's definitely still plenty of depth here.
How does it taste?
Go ahead and make your Tiffani Thiessen jokes here. I don't think the flavor is as complex as the nose led me to believe, but it's still really tasty. The coffee-like bitterness is most prominent in the finish, where it transitions softly from the sweet, malty flavors up front. The chocolate and fruits, again, give me that stout vibe. So, yeah. Give a porter some steroids and here you are.
How does it feel?
Go ahead and make your Tiffani Thiessen jokes here. The texture of this beer is just butter. Look, I hate using "smooth" as a descriptor for a beer because it's just so unimaginative. But there are times where I can make an exception. Take whatever your favorite things to feel are, and you've got a solid idea of Killer Kapowski. That cashmere sweater? Your favorite robe? Things that I won't mention here? Yeah, there you go. The body is just shy of full (HEY-O!) and the moderate level of carbonation complements it beautifully. One could potentially chew this beer, were one so inclined, without wearing out one's jaw. Get the picture? I love this beer's feel.
How does it drink?
Go ahead and make your Tiffani Thiessen jokes here? I initially tried this beer in February 2010 at Foothills Brewing Company during the bottle share that precedes the brewery's annual Sexual Chocolate release. I was hooked and had to trade for another bottle to see how it would age. I'm glad I did. It was an easy drinker fresh. Now? Too easy. How easy? So easy that I didn't have enough time to make another "Saved by the Bell" joke. The 8.3% ABV was never a deterrent in the first place, so obviously there was no concern in that department. Add that to the flavor and texture, and it's hard to come up with many reasons to put this beer down. I'm sad to say this is the only beer I've had from Flossmoor Station so far, but I don't have much trouble understanding the brewery's great reputation.
Final score: 4.3/5 Pints
Thoughts about this beer? Got a suggestion for another one? Let me know in the comment box below!