I feel like we've all been there before. That random moment of refrigerator searching when, all of a sudden, you come across something you had no idea was in there in the first place. Often a disappointing experience ("That's how long past the expiration date?!?"), the random fridge find can be ultimately fulfilling. Consider, for example, stumbling upon a once-forgotten beer that turns out to be exactly what you were looking for. And here we are, ready to pop open a Weyerbacher Heresy. It's the barrel-aged big brother of Old Heathen and, in my experience, Weyerbacher's beers undergo delicious metamorphoses while housed in oak barrels (see: Insanity).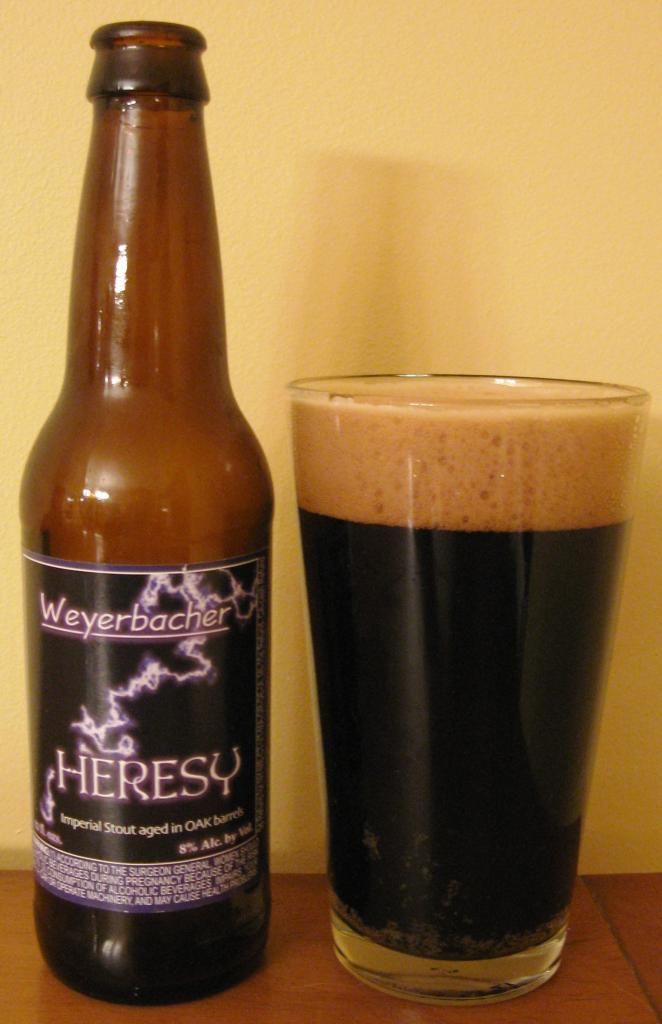 Heresy
Brewed by: Weyerbacher Brewing Company
Style: Russian Imperial Stout
ABV: 8%
Bottle size: 12 oz.
How does it look?
Heresy fills out a pint glass quite nicely. Black in color with a bit of a reddish tint when held up to light, Heresy appears to be a bit thin in the pour. We will see soon. Two-plus fingers of rich, cocoa-colored foam peek out over the rim of the glass. The head fizzes away after a few minutes to a thin ring, but that thin cap sticks around until the glass is empty. Chocolate milk cobwebs (no such thing exists, but it'd be a lot cooler if it did) of lacing decorate the inside of the glass.
How does it smell?
Dark chocolate instantly fills the nose. It's a welcome change from today's typical barrel-aged imperial stout, which typically smells sickly sweet with a dose of jet fuel dumped in. Heresy's bourbon barrel character (oak, vanilla, bourbon) is much more restrained. There's also a dark fruit sweetness and coffee-like bitterness. Neither seems to overpower the other. A little bit of boozy heat is detectable, which comes as a bit of a surprise but still isn't even close to unpleasant.
How does it taste?
I'm happy to report that the brief alcoholic burn never extends beyond the nose. Fortunately, all of the other components of the aroma exist in the flavor. We're looking at dark chocolate and coffee grounds, dark fruits, oak, vanilla and a slight touch of bourbon. It's right on the money for the style. We have elements of sweetness that aren't too sweet, roasted notes that aren't too bitter and barrel components that aren't too overpowering. It's almost as if Heresy takes all of the major parts of the barrel-aged imperial stout and scales them back to where they live in harmony rather than just blasting the consumer with noise, which I suppose makes Heresy the Guitar Hero version of Metallica's Death Magnetic to, say, another imperial stout's album version.
How does it feel?
This is the one problem I have with Heresy. The body just isn't thick enough for the style. Imperial stouts need to have a really thick, chewy texture. Heresy doesn't quite make weight. It's the same gripe I had with Old Heathen, so I'm not terribly surprised. The body sits right in between appropriate and disastrous. So, I guess there's the silver lining. It's not quite watery or thin, it just lacks the necessary heft. The texture reminds me more of a porter than an imperial stout, if that makes it a little clearer. On the bright side, the carbonation level is relatively low, which keeps the disruptions to a minimum.
How does it drink?
Heresy's body issues may keep it from being an outstanding beer, but it's still very good. The positives vastly outweigh the negatives. The alcohol is expertly masked, no small task in today's overly-boozy world of imperial stouts. And, again, the low carbonation level helps. We're not looking at a slick, syrupy drinking experience, but we're also not looking at a vivid, tingly one, either. Considering the great flavor, Heresy scores just fine in the drinkability department. It's the type of imperial stout you could drink a few of without getting bored if you don't mind sacrificing a rich texture. All in all, a very nice drinking experience from Weyerbacher.
Final score: 4.15/5 Pints