I think Bigfoot is blurry. That's the problem. Sierra Nevada's version of Bigfoot, on the other hand, is anything but a problem. This Bigfoot can cause blurriness, sure, but Bigfoot itself is a bold, vibrant barleywine with an aggressive hop bite when fresh. When aged? Well, that's what I'm looking to find out. For reasons I can't exactly figure out, I've been on a major vintage beers kick lately. Maybe it was the pre-Brewival bottle share. Maybe it was Brewvival itself. Maybe it was my realization that buying new beer costs money, while drinking beer that I already have isn't a new expenditure. Whatever the reason, it's already been a fun ride. Batch 9000 and KBS both had aged beautifully, so there's no reason to think Bigfoot hasn't done the same. Only one way to find out.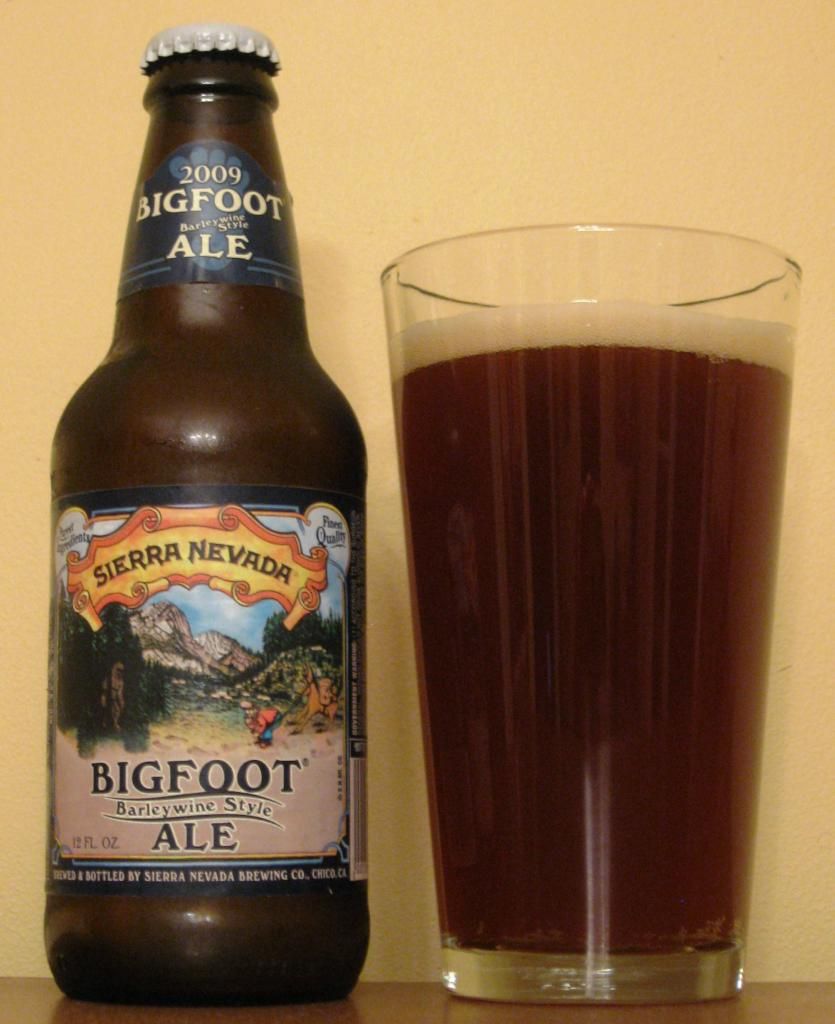 Bigfoot
Brewed by: Sierra Nevada Brewing Co.
Style: American Barleywine
ABV: 9.6%
Serving type: 12oz bottle
How does it look?
Right out of the gates, Bigfoot's got an unusual appearance. Given my love of the IPA, I've grown accustomed to describing a beer's color as "orange-amber". Occasionally, I'll call it "amber-orange". With stouts, it's basically a quest to find different ways to describe black sludge. I haven't come across a beer that looks like Bigfoot since, well, probably the last time I had Bigfoot. How about we call this one a dark reddish-copper? I think it works. In my experiences with fresh Bigfoot, fluffy off-white foam spills out of the glass. This time, I went with a cautious pour. I still ended up with a solid finger. Not much lost there. The head lingers until a small sliver is all that's left. The lacing is gorgeous; it takes a few rinses to get all of it off of the inside of the glass.
How does it smell?
This beer doesn't smell like I expected it to. Or at least not entirely. Given the loads of caramel malt present in fresh Bigfoot, I expected sweetness to dominate the nose in an aged version. Imagine my surprise when I catch a big whiff of pine. Somehow, there's bitterness to go along with the sweetness. And that just reminds me of how deliciously hoppy fresh Bigfoot can be. Or really, how deliciously hoppy anything from Sierra Nevada can be. Beers like Torpedo, Celebration, Ruthless Rye, Harvest and others all have great hop profiles. Bigfoot is no different. I can already tell this one still has plenty left in the tank.
How does it taste?
The bitterness in the taste is equally surprising. Caramel and toffee sweetness dominate up front. I'm not really getting any of the big citrus flavors that one would encounter in a fresh bottle. A small bit of orange-like sweetness sneaks in, which honestly is probably better because it isn't overwhelming. The hops announce their presence in the finish with a nice, piney bitterness. The lasting herbal flavor shows no signs of fading away anytime soon.
How does it feel?
Thick. Bigfoot is full-bodied with an oily, slick feel. The carbonation level hasn't fallen off at all over time; there's enough carbonation that you're not drinking a dull, lifeless beer, but there's not so much that it breaks up an enticing texture. It's what you want from a barleywine, or at least it's what I want.
How does it drink?
Aged Bigfoot is too easy to drink. The 9.6% ABV isn't overly vocal in a fresh bottle. It's practically silent after sitting in the corner for a few years. Given the balance of good flavors, it's hard not to keep coming back for more. Add in the texture and you've got a winner. If you're looking to get into aging beers, Bigfoot is probably the perfect place to start. It's brewed by a craft beer giant and is available practically everywhere, meaning "available in limited quantities" is a lot easier to come by for this beer than most. It's also going to be a relatively cheap option, as far as craft beers go. One can easily grab a case (or two) without breaking the bank and hide some bottles for later consumption. I've still got a handful of 2009 bottles that I'll try to open up on a yearly basis. Of course, once you try this beer for the first time, you might not be too willing to let them just sit around.
Final score: 4.2/5 Pints