How would you like to be whisked away to "a land of open fermentation, oak barrel aging, and bottle conditioning"? I decided to take the fine folks at Jolly Pumpkin Artisan Ales up on that offer and recently explored a bottle of their Belgian Biere Blanche, Calabaza Blanca.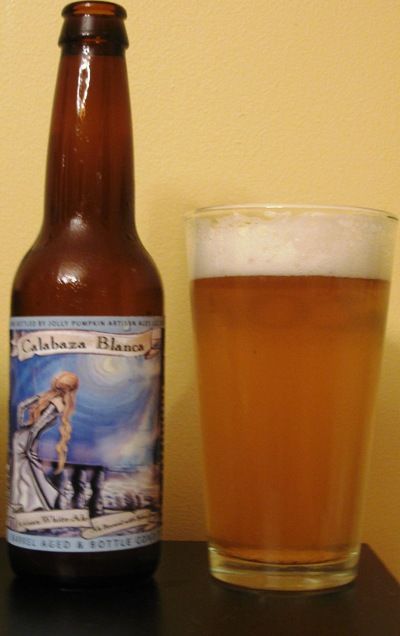 Calabaza Blanca
Brewed by: Jolly Pumpkin Artisan Ales
Style: Witbier
ABV: 4.8%
Bottle size: 12 oz.
Summertime in the South demands that one grabs a refreshing brew every now and again. How about a witbier from Jolly Pumpkin? Their beers always jump out at me from the store shelves thanks to their fantastic label art and, as you can see, Calabaza Blanca is no exception. I don't see anything on the bottle to indicate a bottling date, but the fact that this beer is barrel-aged does alleviate some of my concern. Even the cap, a simple blue pry-off, is a nice look.
How Does It Look?
Poured from the bottle into a pint glass, Calabaza Blanca has a radiant, inviting appearance. The color is a golden-yellow with a fluffy white crown almost two fingers high. Sheets of sticky lacing remain plastered to the glass long after the liquid's gone.
How Does It Smell?
The aroma is tart with a prominent wheat character. The orange peel and coriander Calabaza Blanca is spiced with make a subtle appearance, as does the oak from the barrel. What I smell the most of, and it's quite possibly because I'm looking for it, is that signature Jolly Pumpkin funk. It doesn't take much digging around to get that musty, barnyard feel. To the uninitiated I'm sure that sounds off-putting, but I promise it's a good thing.
How Does It Taste?
The flavor seems to be dominated by tart and funk. The wheat contributes to both the tart taste as well as the chalky, bone-dry finish. The flavor is immensely refreshing, and there is enough going on to keep it intriguing. The orange peel and coriander are both used superbly in this beer. Like in the aroma, they appear as subtle, supporting flavors. There have been plenty of beers that I have dreaded sampling in the past after seeing coriander on the list of ingredients because it can be so overwhelming. Fortunately, that's not the case here.
How Does It Feel?
I wouldn't exactly call this a light-bodied beer. Let's put it down as falling just shy of medium. The carbonation level provides just enough of a tingle to give Calabaza Blanca a lively feel. The aforementioned dry finish beckons for another sip. Don't mind if I do.
How Does It Drink?
Drinkability is sky high. Obviously, that comes with the style, but I feel like the interesting flavors in this beer elevate it above its counterparts in that department. It comes as no surprise that the alcohol is never noticeable. Highly refreshing, this is an outstanding beer to reach for during the summer months as well as one worth revisiting year-round.
Score: 4.4/5 Pints
Thoughts about this beer? Got a suggestion for another one? Let me know in the comment box below!