"Our robust Blackout Stout is named after the infamous 'Blackout of 2003' that left the northeastern United States without power for days."
Uh, why didn't I think to open this beer two weeks ago, when an ice storm knocked out power in my area for several days? That would've been too appropriate. I opened a few other beers over those nights while sitting in my car in the driveway, because that was the one place I could feel heat and charge my phone at all hours. But man, Blackout Stout would have been a perfect choice.
Needless to say, timing has never really been my thing, unless we're talking about dropping in the proper one-liner or quote from a funny movie. Other than that, it's typically not great. Luckily, years of newspaper writing means that I know how to get things done at the last minute. This beer has an "enjoy by" date of July 28, 2009 on it. Did I wait too long, or am I going to nail this thing right as the deadline approaches? There's only one way to find out.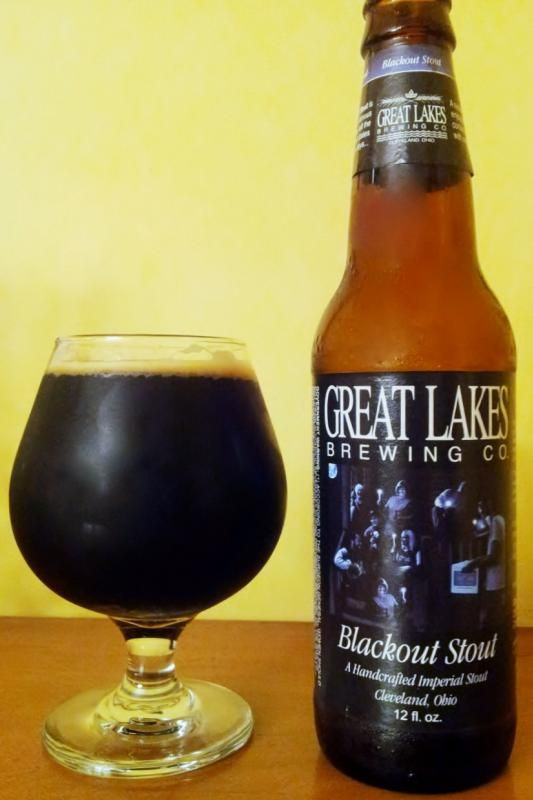 Blackout Stout
Brewed by: Great Lakes Brewing Co.
ABV: 9%
Style: Russian Imperial Stout
Serving type: 12 oz. bottle
I'm always happy to open a beer from Great Lakes Brewing Co., the only winner I've ever met from Cleveland. Actually, I take that back. Eric Metcalf absolutely OWNED on NFL Football '94 Starring Joe Montana, and I seem to remember Clay Matthews bringing the Tecmo Bowl pain. But those are video games. Granted, they're timeless video games. But they're still video games. Actually, now that I think about it, I watched The Drew Carey Show daily in high school. So Cleveland is cool in my book, especially since I don't have to root for any of the city's tragically, yet hysterically (sorry), cursed sports franchises. Fortunately, Great Lakes suffers from no such curse.
How does it look?
Color me shocked that Blackout Stout produces a black pour. I have a bit of a routine when it comes to analyzing beers. Part of that routine is that every review is conducted in the exact same spot on my living room couch. A lamp sits within arm's reach to my right, so I always hold the glass up to the light to get a better look at the beer's appearance. In the case of Blackout Stout, there's not much light getting through; it lightens up a bit to a dark brown around the edges. I'm looking at a finger of mocha-colored foam on top. The head retains nicely, even with age, and leaves behind gobs of sticky lacing on the inside of the glass. Blackout Stout is very easy on the eyes.
How does it smell?
I remember my first encounter with this beer early in 2010 and the first descriptor that came to mind was "robust". Not much has changed since then. There's a really nice combination of sweet and bitter going on here. Sweet chocolate and brown sugar lead the way with balancing coffee and smoke scents trailing.
How does it taste?
The flavor falls right in line. You're not getting much out of this beer in terms of layers of flavor; to me, there are two major components to Blackout Stout. But man, those two components are right on the money. Just like in the nose, the chocolate sweetness takes charge right off the bat. The lasting flavors are bitter coffee, and there may still be some hop bitterness in there even after all of these years. The transition between sweet and bitter is seamless.
How does it feel?
There's only one way to truly complement rich flavor in a stout, and that's with a rich texture. I don't think I'd classify Blackout Stout as having a full body, but it's close. I can't think of many knocks on this beer, and this isn't even a major one. The carbonation level is moderate, not enough to disrupt the creamy texture. There's some dryness in the finish and plenty of lasting flavor. I wrote four years ago that there was no trace of the 9% ABV in a fresh bottle, so you can guess how much alcohol I'm noticing in one that's nearly five years old.
How does it drink?
This beer drinks dangerously. By that, I mean that you could very easily drink more of these than you had planned to. I think that the sweet/bitter balance, even if a bit "simple", really helps Blackout Stout in this category because the flavors work so well together that there's not much to slow you down. Add in a less-than-full body and nonexistent alcohol content, and odds are that you'll find yourself opening a second bottle quickly. That is, if you're lucky enough to have another. Which reminds me, I need to find more of this stuff. And fast.
Final score: 4.4/5 Pints