There are a lot of Ohioans in my home state of South Carolina. Seriously. Don't believe me? Have a look, though that appears to be a primarily coastal point of view. One recent visitor from the Buckeye State I've noticed in the past few years is Akron's own Hoppin' Frog Brewery. I mean, I love frogs, so how could I say no to a giant one triumphantly raising a mug full o' suds on the bottle labels? Plus, this bottle has a sticker noting a 2008 Great American Beer Festival Gold Medal (another was earned in 2011). This particular offering is called B.O.R.I.S., which stands for Bodacious Oatmeal Russian Imperial Stout. As a fan of the Teenage Mutant Ninja Turtles (Leonardo for life) as a child, I'm in favor of damn near any usage of the word "bodacious." This should be an interesting drinking experience, as I tried the barrel-aged version of B.O.R.I.S. (thanks to Asheville, NC's Bruisin' Ales for that one however many years ago) long before sampling the base beer. A rainstorm passed through the area earlier to drop the temperature below 90, downright frigid for this time of year, so let's crack this one open.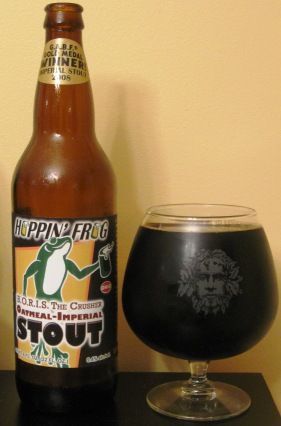 B.O.R.I.S. The Crusher
Brewed by: Hoppin' Frog Brewery
Style: Oatmeal Imperial Stout
ABV: 9.4%
Bottle size: 22 oz.
How Does It Look?
As I pour B.O.R.I.S. into my Green Man snifter (thanks to Bruisin' Ales for that one, too) I can't help but notice that there is practically no foam sitting atop the beer. I mean, it's not still – there is a small, thin cap – but it looks close. After a few minutes, I'm left with a wispy, mocha-colored ring around the inside of the glass. Given the style of beer and the alcohol content, this is by no means unacceptable. There's no real lacing left behind, either, but that's to be expected. B.O.R.I.S. is a rich, black color. Coupled with the scant foam, I'm getting a strong coffee vibe every time I look at the glass. I anticipate something similar as soon as my nose nears the glass.
How Does It Smell?
Yep, there it is. There is a definite deep-roasted, coffee-like note in the aroma. However, as I've often noted in oatmeal stouts, there is a good bit of sweetness to balance out that bitterness. There's also plenty of chocolate and caramel to provide even more sweetness. A faint bitter hop note rounds out the aroma, giving B.O.R.I.S. equal sweet and bitter components. The nose is very inviting, and there's practically no trace of the 9.4% ABV. That's never a bad thing.
How Does It Taste?
The first thing I notice about the flavor is that the coffee-like taste is more prominent than I was led to believe. I'd say it's most apparent in the finish. Prior to that, yeah, we're looking at plenty of sweetness. Again, that's par for the course in the world of oatmeal stouts. The transition from sweet to bitter is an interesting one; the sweetness lingers a bit longer than I had imagined before turning bitter and almost dry. The transition is sharp, but seamless. A small bite from the alcohol is hardly a deterrent.
How Does It Feel?
Russian Imperial Stouts tend to have big bodies. So do oatmeal stouts. How about a Bodacious Oatmeal Russian Imperial Stout? Brick house. It's thick, chewy – sometimes I really enjoy predictability. The low carbonation level isn't noticeable just in this beer's appearance; the texture barely falls shy of being syrupy. B.O.R.I.S. lives on the edge, yet does so successfully.
How Does It Drink?
How drinkable can a Bodacious Oatmeal Russian Imperial Stout be? Well, the bomber didn't even last through an entire episode of Chopped. Not bad. One of the major keys to this beer is that there are no real deterrents; sure, there are components that could be different here and there, but nothing about this beer makes me want to set it down for too long. And that's saying a lot for this style. So send as many of your residents down to South Carolina as you want, Ohio, just as long as they can brew like this.
Score: 4.2/5 Pints
Thoughts about this beer? Got a suggestion for another one? Let me know in the comment box below!